OHHh WHAT AN EVENT!!!   Shelton Washington & HUGS FEST
08.11-14.2022     The Peace Valley Barefoot Festival & HUGS: Present HUGSfest 2022 
After all the prep work, paperwork and everyday issues and problems of bringing together two worlds into one place has been locked in!!  Chad Sweitzer and the #SweitzerStrong Foundation (501(c)3), have managed to work a little magic and make it possible for HUGS to help in raising money for the Traumatic Brain Injury Foundation while Showcasing the HUGS Artists from around the Globe with the 4 day event, as it's highlight feature.  
 The 4 Day event has managed top draw in 40+ Artists that will be bouncing from one stage to the next pretty much Non-Stop over the four days, with HUGS Artists filing in to fill the slots...  That is until Saturday Night when the SweitzerStrong Foundation will be turning over the major portion of the evenings events to HUGS.  Not even on Sunday Night Jim Basnight and Band will be putting the icing on the cake for the closing show!!  
The Final Setlist is about ready to be released, as well as the ON-LINE Advanced Ticket Sales for the Event...  All of which will be posted here for all to take advantage of.  SO, if you are up for a Vacation, or a Weekend Away..  HUGS and The Peace Valley Barefoot Festival Crew Have an answer to your needs..  4 Days of the BEST Independent and Unsigned Artists from around the Globe will be in Sheldon, Washington starting Thursday, August 11th through the 14th, 50+ Bands Artists and Performers going at it all to raise money for the Traumatic Brain Injury Foundation of #SweitzerStrong...  And Mind You,  that your donations are Tax Deductible !! 
RV Camping, Tent Camping, Hotel and over night stays, as well as Air BnB options have already been set in place for you to explore.  All you have to do is show up and relax!!  More To follow!!
The HOLLYWOOD ALLSTARS INVASION !!
January 19th, 2022: - - As of yesterday's HUGS BLAST, it would be safe to say that HUGS has stepped up its cliental a few more notches.  The addition of the "Newly Revived", Artist Group called the Hollywood Allstars has everyone taking a deep breath.  As per the following information: The Hollywood Allstars are breaking the mold of how and what we see the music industry as being.  This group of artists have a long list of awards and credits. They each have made a mark in the music industry on their own merits, but as a group, they have decided to do their part in changing that way they will be represented and presented to the audience...  AS Independent, Unsigned artists doing it on their own.  
There is so much to be said about this step being taken that I can not list out the balance of the scales, but what I can offer each of you is to go read about this groups plans and their direction for yourself.  It will open your eyes to the battle that you have been fighting over the past three years. 
 What I can tell you is that the idea that independent artist deserve more respect and better treatment across the board...  IS A STONE COLD FACT!  
Some HUGGERS may find themselves thinking that this addition to HUGS might be slighted, but I do beg to differ.  Every artist strives to become better, every artist learns how to adapt to find that new sound, or better yet, is open minded to learn from the artists they function with...  It makes all of us better.  I remember as a youthful athletic person.  I found that I became a better player when I competed against other athletes that were more talented. They pushed me to learn how to do things far beyond what I thought I could do.  It wasn't long before they found that the tables evened out and that the competition was no longer one sided...  I welcome the Hollywood Allstars to HUGS Family with open arms and wish them the best of luck.... Cause I think that they're going to need it to compete with the HUGGERS in our game. Why would I say that?  Because every artist that I have seen pass through HUGS has grown, adapted, and overcome..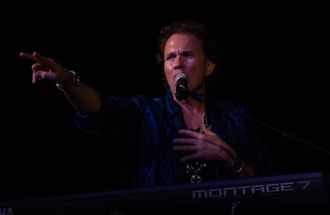 The Hollywood Allstars are the brainchild and handpicked Supergroup of Grammy Nominated Songwriter/Producer/Keyboardist, and former Epic/CBS Recording Artist, Steve Gaspár on Hammond Organ& Piano.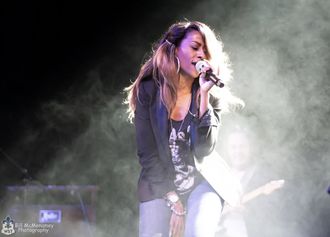 Vocalist: Chevy Chevis – Has performed as background vocalist with Beyonce, Chaka, Madonna, Arianna Grande, Adele, J-Lo, and on and on.